Store
Click the seal below and log in to view the Pay Pal Verification Certificate

THE BASS HOG'S NEW GEAR, TACKLE AND CLOTHING SITE "HAWGS 'R US".COM!
Translate this web page to any language using Google Translate
For Your Piece Of Mind And Convenience, HAWGS 'R US is accpeting payments via Pay Pal. You do not need a paypal account to use paypal.
Orange Wife/Husband Beater T-Shirt (pro model, reversible to white)
May also qualify as a blaze orange vest for hunting purposes, check your regulations.
You can roll with the Bass Hog's favorite number, 7.
Shirts are 100% polyester mesh. 3-oz. 70-denier double-layer mesh. Individually hemmed layers for durability and longevity.
Colors: Burnt Orange/White Reversible. Printed front and back on orange side of jersey only. Custom numbers extra.
Long Sleeve Shirt 2
Short Sleeve Shirt 2
Short Sleeve Shirt
Long Sleeve Shirt
Baseball Cap II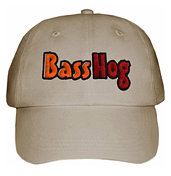 High quality Anvil hats. Low-profile brushed cotton twill. One size fits all. Printed front and back in white or light khaki. Embroidered front side only all color listed.
PLEASE USE THE BUTTON BELOW TO VIEW ITEMS IN YOUR SHOPPING CART AND TO CHECK OUT!

Feel free to customize your design by adding text, photos or removing text or photos by using the form to send comments to the seller during check out. We will make T-shirts with just the "Bass Hog" red and orange logo on them and we will remove all text from any of the items upon request or add completely custom text or photos. You may have to email custom photos to me and they must be 300 DPI minimum.

We will not charge you extra for shipping.

Items are $5.00 each for shipping, however if multiple items are shipped together to the same address there may be a discount on the shipping costs.

MONEY BACK GUARANTEE!!!

Questions or Answers??? Maybe you would like a guided outdoor adventure with "The Bass Hog"??? Maybe you have a questions about our merchandise? Contact "Mr. I Hog the Bass!" Click Here? info@hawgsrus.com

Phone Number: 703-999-8181